Chanukah Gifts for Soldiers Moments before Chemical Attack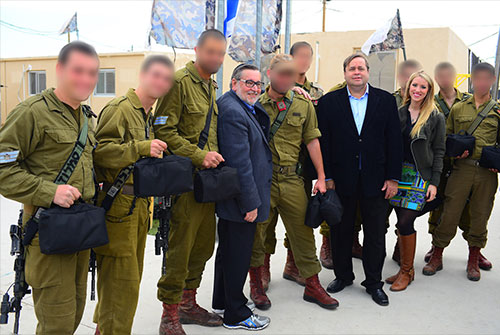 Following a visit to Hebron, Dr. Charles McVety,National Chair of CUFI Canada, the country's largest pro-Israel advocacy organization was with the group at a Military Base in Gush Etzion distributing Chanukah gifts to soldiers, as some of the soldiers were suddenly gearing up for immediate action.
The soldiers were called to assist in dealing with the chemical attack at the El Hadr junction. A chemical terrorist attack against a family and a hitchhiker had just taken place.
Moments before the incident the soldiers were thanking the solidarity mission for coming to see them and the Chanukah gifts ( individual coffee makers to be used in the field )
Dr. McVety in his comments to the soldiers thanked them for being in the front line against Islamic terrorism and wished them a happy Chanukah. The soldiers were most thankful indicating that the gifts will keep them warm in cold winter nights out in the field. In addition some wished him a Merry Christmas and spoke of the friendship they felt.
Recognition
Canada Christian College and School of Graduate Theological Studies is fully recognized degree granting institution.
Recognized by Ministry of Training, Colleges and Universities tcu.gov.on.ca
All Degrees granted under the authority of the Ontario legislature, Canada Christian College Act. ontla.on.ca/bills
Listed by Canadian Information Centre for International Credentials cicic.ca
Canada Christian College has the same level of degree granting authority as all the other recognized universities in Ontario.
Leading School For Success In Ministry
Your future depends upon your choices. Over 6,000 men and women have made the right choice and graduated from Canada Christian College. Great leaders such as Franklin Graham, John Hagee, T.D. Jakes, Grant Jeffrey and Myles Munroe have honourary degrees from Canada Christian College.
Graduates are now ministering around the world, touching thousands upon thousands of lives every day. They are by the design of God. They too made the right decision, to trust God and not listen to man.